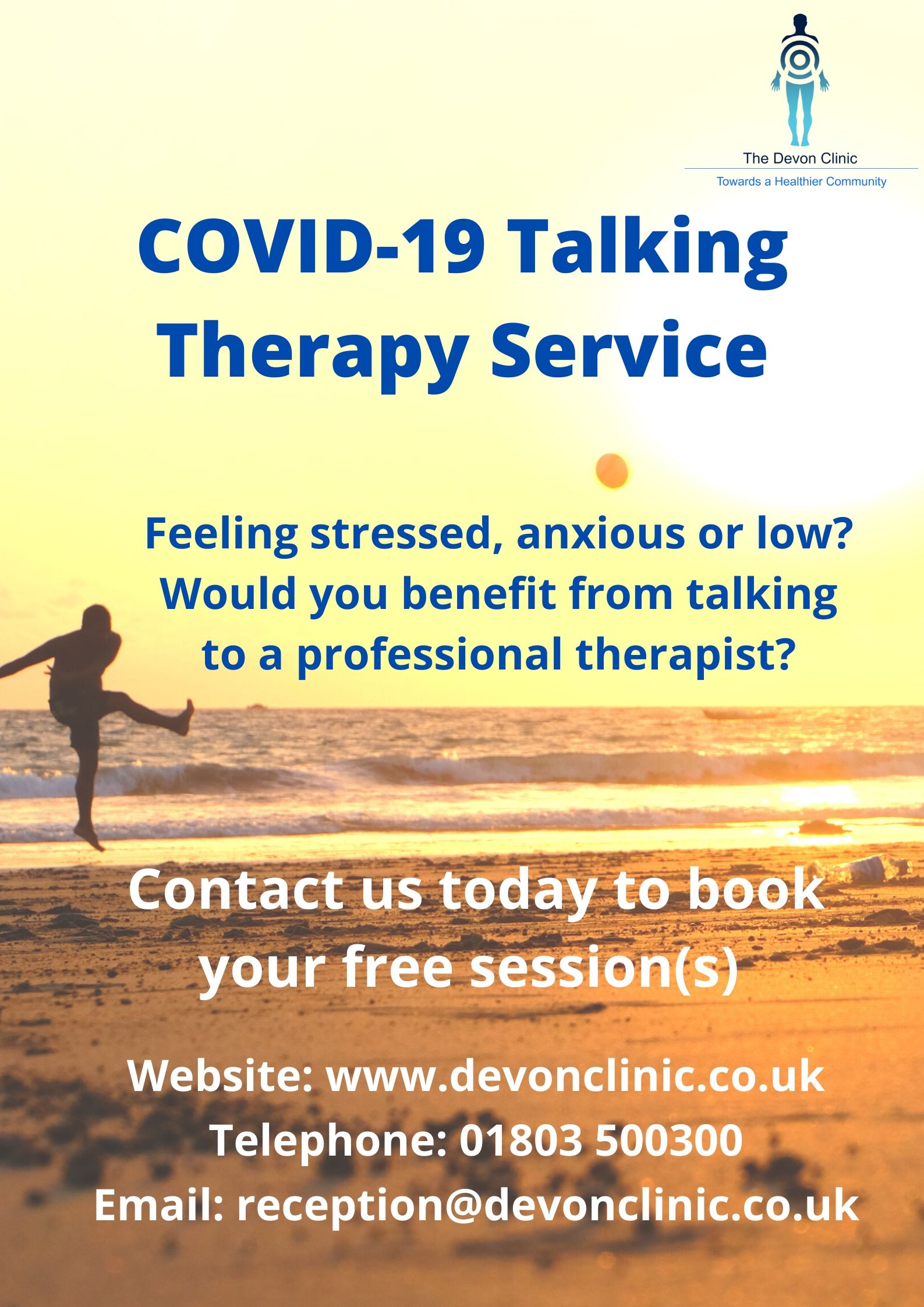 Connecting You With A Professional Talking Therapist
Would you benefit from talking to a professional therapist?
The Devon Clinic is proud to announce that we are in the process of setting up a FREE talking therapy service. We will be providing our community with a safe outlet to express their thoughts, feelings, and worries. Our professional therapists will be available to listen and provide practical and positive advice as well as coping mechanisms during this difficult time.
Remote sessions will be available via telephone and video, Monday to Friday, 9 am to 9 pm.
Planned re-opening with some services on June 15th - uptodate information on our facebook page - https://www.facebook.com/TheDevonClinic/

Temporary Closure 
Due to the current situation, The Devon Clinic CIC is sadly temporarily closing.
In the meantime, our wonderful volunteers have kindly taken it upon themselves to donate their time to answer calls, emails, update social media and maintain our website.
We thank them very much for their generosity during this difficult time.
If you have an appointment or would like to book please contact us by telephone on 01803 500300 or email reception@devonclinic.co.uk.
Please not that we can only offer appointments via telephone or video call (Zoom/Skype).
We ask that you take the time to look after yourselves and each other, shop sensibly and support the community where possible.
Above all, remain calm and remember to focus on what you can achieve rather than on what you cannot.
Thank you.
Situated a two minute walk from both Paignton train and bus station The Devon Clinic, a community interest company, providing a wide range of private and part-funded talking and physical therapies. Treatments include: Acupuncture, Allergy testing, chiropractic, counselling, hypnotherapy, and massage to name just a few. Our team of over 15 practitioners are highly qualified within their field and many have been with us for several years. We are proud to say that our treatments are natrual and non-evassive.
About The Devon Clinic
The Devon Clinic was established in 2010 by founder, hypnotherapist and owner of the The Devon School of Hypnotherapy, Chris Fleet. Chris noticed Paignton lacked a centre-a one stop shop-where individuals could come for both complementary talking and physical therapies. Hyde road became the ideal location as it is just two short minutes from both the train and bus station.
The Devon Clinic became a Community Interest Compny in 2014. Being a CIC means we reinvest all surplus monies into our community and business rather than maximising profits. This allows us to work with, support and improve the lives of those around us.
Since becoming a CIC we have: hosted open events, charity days, attended local events, volunteered our skills, shared our space, joined other likeminded community companies, taken on more volunteers, trained inidivduals (mentors), and taughts individuals vital coping skills.
The Devon Clinic CIC works in conjunction with local organisations including:
Torbay Community Development Trust | Torbay Business Forum | Federation of small business |Torbay Volunteer Network | What's Your Problem | White Ribbon | Play Torbay | HM Prison Services Rehabilitation |
Company Number: 9312494 
We strongly believe that everyone is entitled to treatment regardless of social standing.